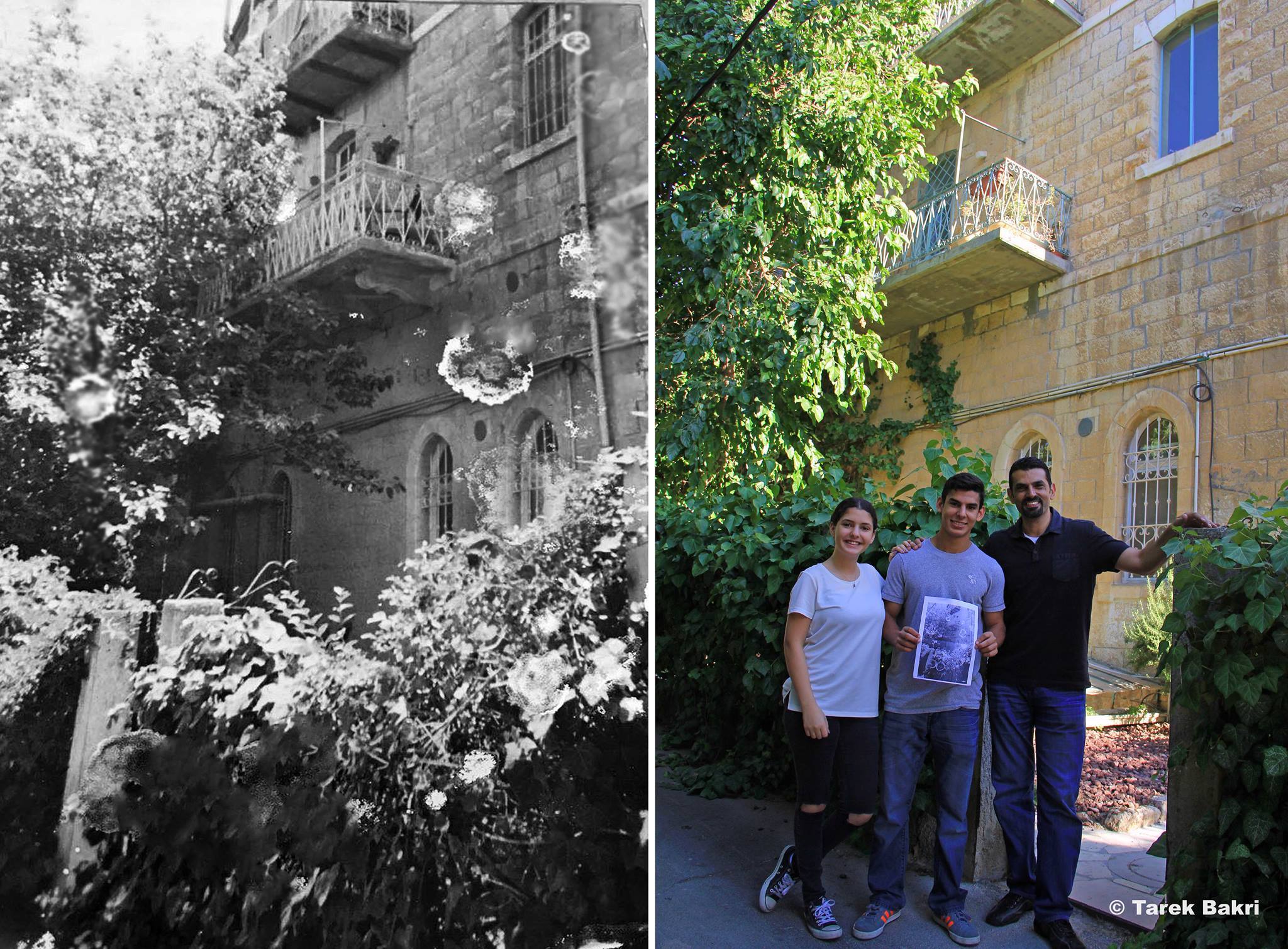 Since the launch of the documentary project "Kunna Wama Zilna", dozens of stories about Palestinian refugees around the world were collected as to document their homes and take them to it. Some of the stories were happy, others were sad; but without a doubt that Dakkak's family house that was built in 1890 at Albaqaa neighborhood of Jerusalem had the biggest impact on my heart and soul.
The story began in Kuwait back when "Kuwaitis for Jerusalem" association several months ago hosted me. After I finished performing the lecture that I delivered to a large group of Kuwaitis and Palestinians living in Kuwait, an American Palestinian man approached me by saying: "How are you, Palestinian man? I am Nasser Dakkak"

- "Dakkak family from Jerusalem, correct?"

And here is when I started using my networks

- Do you have relatives living in Wadi Al Joz?
- What about the shops beside the Sepulchre Church?

After a couple of minutes from our conversation and getting familiar with his background, I came to understand that his grandfather Chakib Dakkak owns a house in Albaqaa neighborhood of Jerusalem which was occupied in 1948 and he has an old photo of the house, however, he doesn't know anything about it!

I kindly asked him to send me that photo, and that whenever he visits Jerusalem we will go hunt for that house.
Nasser, and his kids Khaled and Yasmeen visited Jerusalem..
I had the old photo of the house with me, and many doubts on a couple of locations but wasn't quite sure and insisted on going out with him for that treasure hunt!

We have finally found the house, and I am beyond mesmerized by it's beauty, It is hidden behind large beautiful trees that are probably 100 years old if not more..
On a side street sitting perfectly how his father had left it.
The smiles were drawn on the kids' faces and with their broken Arabic accent they expressed to their father what they feel and how lucky they think their grandfather was to live in such a place!

They also shockingly told their father that there are houses here way prettier than the ones in the states!
Up to that point, the face expressions and reactions were very familiar to me as I got used to this.. I took the before and after shots.
A couple of minutes after, we saw a family approaching the entrance of the house carrying bags and boxes with a huge smile on their faces!

* Shalom

- Hey my name is Tarek

* Nice to meet you..

- Do you live here?

* What a coincidence; I bought a part of the house and tonight will be the first night to spend here! Who are you guys?

- I'd like to introduce you to Nasser Dakkak, the owner of this house!

An awkward silence for half a minute.. A shock on everybody's faces..
I felt like the time paused, and everything just stood there..

* How is that possible? Can you please explain?

- Do you see this old photo? This is where Nasser's father was born and raised, until he was expelled in the Nakba of Palestine in 1948.

I wouldn't want to be in the shoes of this nice Jewish family, by all means. No one wants to be put in such a situation, I mean, think about it, after months and months of hunting for the perfect house, paying loads of money, packing and finally preparing to move in.. you bump into the actual owners of the house on the same exact day?